Main content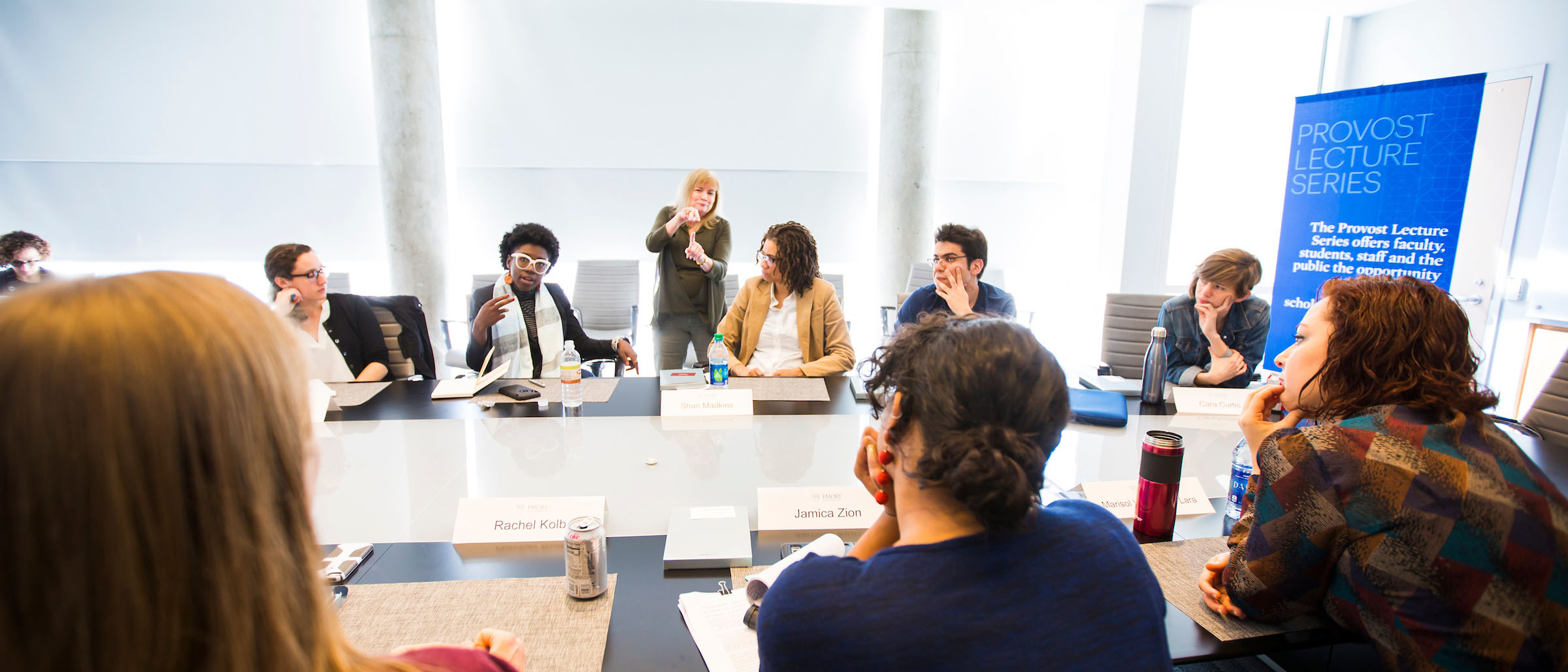 Building and Cultivating Inclusive Environments
---
Achieving our diversity goals does not end with successful recruitment. Building an intellectually vibrant community in which faculty choose to build their professional careers, inspire the next generation of students, and become leaders in their fields and on Emory's campus entails long-term support and collaborative engagement. All faculty must have the resources they need to flourish as scholars, teachers, and citizens of the University. Central to our mission is investing in faculty mentorship and building a campus culture of dynamic inclusivity.
Faculty Mentorship and Engagement
The academic life-course is long and multifaceted. Faculty benefit from multiple sources of professional development, mentorship, and engagement at every stage of their careers, from initial appointment through retirement. In the early-career period, individualized mentorship and support is generally anchored in departments and programs and focuses on the research, teaching, and service contributions of each faculty member.
Mentorship Clusters
In 2020 Emory College convened "mentorship clusters" for early career faculty on both tenure track and lecture track appointments. These small groups are led by senior faculty mentors from across the College with the goal of enhancing professional development and forging connections among Emory faculty colleagues at a similar career stages across academic fields.
Mentorship clusters for recently tenured Associate Professors are planned with the dual goals of professional development, community building and deepening our leadership pipeline. To lead or join a mentorship cluster, email the Office of Faculty.
dean_of_faculty@emory.edu
Service, Citizenship, Engagement: Get Involved
As citizens of individual academic departments and programs, the College, and the University, we are eager to help every faculty member identify meaningful spheres of engagement and service. For instance, the Office for Undergraduate Education offers multiple opportunities for faculty to work closely with Emory College students via enhanced mentorship, research opportunities, and other service through multiple OUE programs.
View Opportunities
Academic Departments & Programs: Building Inclusive Cultures
As members of a large research university, Emory College faculty participate in every sphere of University life. We also tend to 'live' primarily within our departmental and program 'homes'.
As such, departmental life both reflects and shapes the experience of its members, from our newest arrivals to our longest serving leaders. As communities, departments and programs reveal structural and cultural particularities grounded in disciplinary and institutional traditions. Supporting DEI principles across the College requires an understanding and engagement with these differences and an intentional approach to inclusive excellence in order to meet the needs of all our faculty, staff, and students.
Department Chair Leadership Workshops
Each year the College Dean's office offers our department chairs professional leadership development through a series of sessions that include: inclusive approaches to meeting structures, supporting faculty mentorship, interpersonal skill building for work with faculty and staff, merit review, etc., all anchored in the principles of DEI. This work expands the enhanced structures within our faculty search process to yield diverse, excellent faculty hires, and extends within a multi-pronged approach to faculty mentorship.
Building an Inclusive Classroom
Emory's Center for Faculty Development and Excellence, CFDE, is deeply committed to fostering inclusivity, equity, and critical thinking in teaching and learning. On the CFDE website you will find programming and resources in inclusive pedagogy. This pedagogy represents an approach to teaching that values diversity, promotes social justice, and supports student engagement and academic growth.
Learn More About Inclusive Pedagogy
Race and Ethnicity General Education Requirement
Beginning in Fall 2021, all new incoming first-year Emory College students will be required to complete one course before they graduate that fulfills the Race & Ethnicity (RER) General Education Requirement (GER).
The Race & Ethnicity courses and the scholarship of our faculty in this area already form an important facet of the liberal arts education that Emory College provides. These GER courses provide students with a variety of holistic opportunities to consider racial, ethnic, and cultural dynamics; political, economic, and social exclusions; and social difference, inequality, and identity.